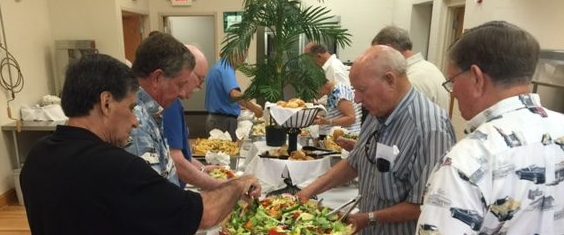 WHERE OUR GREATEST ASSET IS A SATISFIED CUSTOMER.
Chef Henry catered our wedding reception and almost two years later people are still talking about how great the food was. Everything was fresh and steaming hot.  The presentation was superb and the taste was phenomenal.  Since our wedding Chef Henry has catered several parties we've had and the response is always the same.  Everyone always wants to know who the caterer was.  Chef Henry consistently delivers the best in quality and taste every time.  Whether it's a full formal dinner or snack trays Chef Henry's Catering is the very best in Charlotte and surrounding.   When it comes to our catering needs there is only one chef we turn to, Chef Henry!
Tim and Alexis Little
Thank you for a wonderful Thanksgiving meal. The food was delicious and my family enjoyed meeting you and eating of course! The food has been wonderful as usual. I love your Stewed Chicken and the rice has been delicious.
Drs. Natasha and Roger Deeny
Just thought I would pass this on to you. Everyone I seen today after 5:30 pm mass today told me how much they enjoyed the food you prepared today and how lovely everything looked and tasted.  Our Pastor complimented you, Helen Hinson praised you, and a few others all said everything was so wonderful. Congratulations on your fine work.
Mrs. Janet LaFlamme
Thanks so much for your catering services at my Family Reunion.  Everyone enjoyed all the food.  It was delicious.
Martina Davis
For months I was planning a 25th Wedding Anniversary for my parents when my caterer backed out 3 days before the event.  I called multiple caterers in Charlotte and luckily Chef Henry was able to provide his services.  I live in New York and planning a party in Charlotte can be difficult.  However, Chef Henry was very responsive to all calls, e-mails, requests for faxes, etc. I felt very comfortable with Chef Henry catering this event and he definitely delivered on his assurance that "Chef Henry Catering will perform at its usual high standards." The day of the party, Chef Henry arrived right on time and quickly set up for the event.  The food looked great and was delicious!  Multiple times the guests raved to me about the food and asked who did the catering. Chef Henry was excellent to work with and I would recommend his services to anyone.  If you're looking for someone who is professional in every way and just a great person in general, Chef Henry is this person. Thank you, Chef Henry, for all you did to help make my parent's anniversary party special.
Mr. Kevin Hungate
.
First let me thank you for that awesome presentation, and the food was wonderful. All we could say was that we found our caterer and we are so glad to have you prepare our Christmas event.  On behalf of our Pastor Dr. John H Walker, we say thank you.
Mrs. Venida Davis
I absolutely LOVE Chef Henry's curry chicken!
Mignon Valeriano
You were right.  We did have plenty of food and everything was delicious.  Your food is fantastic in taste and so fresh.  (Everyone loved the apple pie.)  As usual, we received many wonderful compliments from the seniors.  Thank you very much for another great luncheon.

You did it again with another delicious lunch for the seniors.  They enjoyed the whole Saint Patrick's Day menu.  We had plenty of food and everyone came.  Thank you very much for another great luncheon.
Janet Cassidy
We so enjoyed your services at our wedding!  The food was spectacular even though I didn't get to enjoy it near as much as I'd like to…all of my guests commented on how good it was!
Mrs. Kim (Putnam) Burnitt
We've enjoyed the dinners that you've prepared. We've shared your name with several friends!
Dietrich and Tonja Brown
Thank you for catering the delightful meal for our chapter's workshop Sunday. Your work is sublime! The ladies are still raving over your coconut macaroons.
Cassandra
Thank you for such a lovely lunch today.  I have never had banana pudding so good!
Nancy Hershey
Thank you Chef Henry for a job well done, we certainly appreciate you.  The Graduation Brunch was excellent!
TerryAnn G. Williams
You have some super feedback from us here at GE Money.  It went very well and the food was great!  Each lunch had a coordinating bow with what type of sandwich it was and the sandwiches were wonderful.  Everyone liked the food and the presentation.  The variety in sandwich choices is why I picked them and I wasn't disappointed.  Thanks for doing a great job!
Renee Carlson
Thank you so much Chef Henry and Nichelle for being of service to us. I have heard nothing but wonderful things about your food and service when I returned from vacation. Those are the kind of things one likes to here when they return.
Ada Meador
Thank you. You've made this wedding experience a lot less stressful. I can't wait for the big day and the great food! Thanks again. I will be in touch.       
Shawn Godsey
The food was excellent and the team thoroughly enjoyed it- I guess you figured that by the complete lack of leftovers!!
Karen
Chef Henry and his staff have catered multiple events for my family, including my both of my daughter's weddings, my grandmother's 80th birthday celebration, my son's graduation celebration, and many more.  We keep asking him to return for our special events because he is an excellent chef, who presents with integrity, etiquette, and a unique personality.  He is timely, and goes beyond to assure satisfaction.
Rhonda Flowers-Corpening
Your tropical fruit punch deserves praise all by itself. It is so good I wish I could swim in it! But then you pair that with outstanding dance-in-your-pants food and your feet are off the ground. Every time we call another caterer the food and service just can't top Chef Henry's. My fingers only know how to dial your number Chef Henry.
Mike Moss
I just wanted to thank you and your crew for an EXCEPTIONAL luncheon.  The food and the presentation was wonderful and the food was very delicious.  I appreciate the variety in your menu and overall your service helped to make our luncheon a success.  Thank you again I will be certain to use your catering service for future needs.
Karen Gable, AXA Equitable
I just wanted to again express our sincerest gratitude for helping us provide a wonderful event for our co-workers at US Airways Express – Piedmont.  The expressions of enjoyment are innumerable. The decor, atmosphere and especially the food were all awesome.  I've been working here ten years and they say this was the best one yet.
Cherith Foster, US Airways Express

Chef Henry Catering client testimonials mean everything to us.  Why? Simply because we work very hard making sure that you are satisfied.
If you would like to add your testimonial to the web site just send us an e-mail.